The Future of
Connected Medicare
Real-Time Formulary delivers formulary information to the prescriber at the point of care via real time request and response message. This service eliminates the need for the provider vendor to download large formulary files from Sure scripts on a weekly basis. The data provided through Real Time Formulary informs the prescriber of a medication's formulary status, payer-provided alternatives, coverage factors and co-pay details. Real Time Formulary data is intended to assist the prescriber in aligning their selected therapy with the patient's benefit plan.
Real-Time Prescription Benefit
Real-Time Prescription Benefit delivers patient-specific benefit and cost information in the electronic workflow. This solution empowers prescribers, pharmacists and technicians to address patient prescription cost concerns and make informed decisions that boost adherence and operational efficiencies.
RTF and RTPB provide value by driving medication adherence, lowering health care costs, and improving health outcomes and patient safety. By providing accurate, up-to-date, patient-specific information and cost-effective medication options, prescribers and patients can make informed decisions that reduce payment obstacles and improve medication adherence

[A] Real – Time Formulary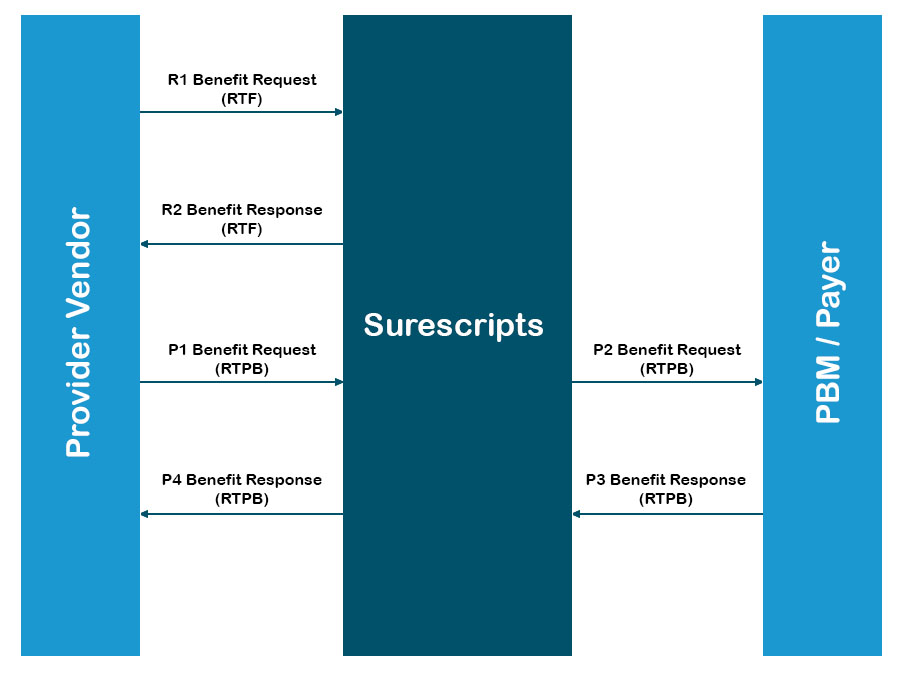 Following the selection of a target medication and appropriate therapeutic alternatives, the provider vendor sends a Benefit Request for representative formulary data.
Surescripts processes the Benefit Request message, gathers the applicable representative formulary data (e.g. formulary status, alternatives, coverage factors, and copay), and returns a Benefit Response to the provider vendor.
Once the medication, days supply, quantity, quantity unit of measure and pharmacy have been selected, the provider vendor sends a Benefit Request for patient-specific estimated cost and benefit data.
Surescripts receives the Benefit Request message and then requests the patient benefit information from the PBM/payer.
The PBM/payer processes the request, formats a Benefit Response message with patient-specific estimated cost and benefit information and sent to Surescripts.
Surescripts forwards the Benefit Response synchronously to the provider vendor.
[B] Real-Time Prescription Benefit

Eliminates resource intensive formulary downloads and EHR processing of downloaded formulary data
Reduces EHR development required to upgrade when new formulary standards are released
Supports getting the most up-to-date formulary data supplied by the PBM
Two for one development lift with RTPB and RTF, meaning once an EHR develops to support RTF, the lift of RTPB is minimal
RTF, RTPB, eRxrouting and ePA all utilize the SCRIPT based standard
[B] Real-Time Prescription Benefit
This solution will deliver the complete, patient specific cost and benefit information to the point of care every time. This help prescribers and patients pick the optimal prescription treatment based off of patient need, benefits and prescription price information, that can be picked up at the pharmacy on the first try
BENEFIT OPTIMIZATION: 10% of patients who abandon their medication do so because of cost. Benefit Optimization solutions deliver real-time, patient-specific medication price transparency.
How Real-Time Prescription Benefit can work for providers
OPTIMIZES MEDICATION DECISIONS AT THE POINT OF CARE: Real-Time Prescription Benefit delivers patient-specific benefit and cost information to the e-prescribing workflow. Combined with Electronic Prior Authorization [H2H next implementation], this solution lets prescribers make medication decisions with greater price transparency and seamlessly complete the prescribing process within their EHR.
Uses real-time patient benefit information: Shows clear and concise patient-specific information directly from benefit plans.
Provides several drug and channel alternatives: With up to five drug alternatives and three channel options, prescribers can select the right medications covered under patients' pharmacy benefits.
Improves patient and prescriber satisfaction: Better-informed medication choices eliminate surprises at the pharmacy, reduce pharmacy callbacks, improve adherence and lower costs.
HELPS PHARMACIES IMPROVE ADHERENCE & INCREASE PATIENT SATISFACTION: Pharmacies can implement Real-Time Prescription Benefit in the dispensing workflow to give pharmacists and technicians access to patient-specific benefit information. Combined with RxChange, this solution lets end users suggest changes to prescribers and dispense medications quickly at a price that patients can afford.
Uses real-time patient benefit information: Clear and concise patient-specific benefit information enables pharmacists and technicians to view costs and therapeutic alternatives.
Prevents sticker shock at the pharmacy counter: Shows lower-cost alternatives covered under patients' benefit plans to increase adherence and prevent abandonment.
Increases operational efficiencies: Reduces the administrative burden of faxes, paperwork and callbacks. Minimizes re-stocking and re-distribution costs.
Provides a seamless experience: A fully electronic workflow reduces time to fill for pharmacists and technicians and speeds time to therapy for patients.
Surescripts work with PBMs and pharmacies to provide benefit coverage information for 95% of the U.S. population
Minimizes workflow disruption: Real-time eligibility and group level formulary coverage eliminates the need for a physician's office to call the PBM to verify benefits, saving an average of $6.46 per transaction.
Increases medication adherence: When combined with electronic prescribing, access to eligibility and group-level formulary information at the point of care increased first-fill medication adherence by 20%.
Complies with Medicare Part D: In accordance with CMS regulations, Medicare Part D sponsors must make formulary information available electronically.
Improves patient satisfaction: Physician access to patient benefit coverage and group-level formulary allows for more-informed conversations with patients.
Real-Time Formulary screen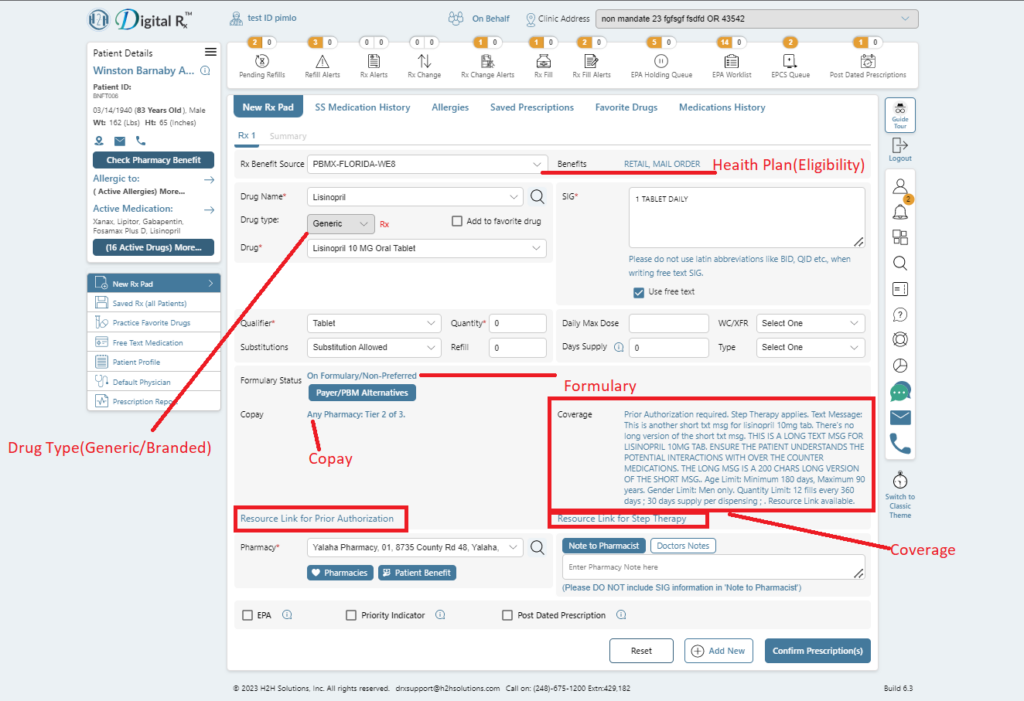 Real-Time Prescription Benefit screen